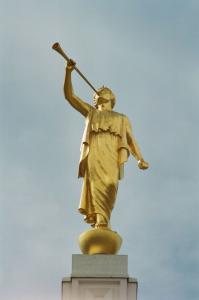 Full Movie | by Dr. Lynn Wilder
---
Recommended reading . . .
Bowman's book encompasses the history of Mormonism with an admirable ability to encapsulate its nearly 200-year existence but lacks the scope of inquiry that would make for a balanced account. Bowman doesn't shy away from the unsavory aspects of the Mormon faith, including a now-discredited belief in polygamy (as revealed in a revelation to Joseph Smith, the founder of the religion), as well as institutionalized racism.
However, the ongoing controversies of the church and the stream of recent media describing Mormonism as a cult—from Jon Krakauer's scathing non-fiction work Under the Banner of Heaven to HBO's Big Love—is left entirely unaddressed in this work, which instead pays occasional attention to the inherently American aspects of the religion. To leave the valid and well-known questions raised frequently in American culture unmentioned seems at odds with Bowman's credentials as a historian; his overwhelmingly positive take on Mormonism is suspect, too. The veracity of Joseph Smith's visions and revelations are never questioned or disputed; instead, "he remains a terrifically romantic figure, a seducer of biographers, a man of colossal imagination, will, and vision." Bowman's view may reflect his own heritage and current role as associate editor of Dialogue, a journal of Mormon thought, but does not address non-Mormon's doubts. Although promoted by the publisher as a topical tie-in, the author's discussion of Mitt Romney, the probable Republican presidential candidate, and Romney's Mormon faith is brief. Though relatively in-depth and readable, Bowman's history is not very probing. (Jan.) Source: Publisher's Weekly.